A Simple Gift
It was one of those lazy mornings.
Not lazy because there was nothing to do.
Lazy because what needed to be done was to be done in the afternoon.
There was no pressing reason to take an early shower and get dressed for the day.
Instead, I put on my walking clothes like I do every morning.
I tied my sneakers nice and tight.
I put on my sunglasses and grabbed my phone.
I set off for my three mile walk.
When I came home, I watered my flowers.
I pulled some stray weeds.
I emptied the dishwasher.
I made breakfast and talked to my youngest daughter, who was heading to work.
It was a leisurely morning.
I was meeting a young mom at a coffee shop later in the afternoon.
Until it was time to leave, I did not have to look at a clock.
It was wonderful.
I needed to go to the UPS store before I was to met this young mom.
I knew that it was time to hop in the shower.
I am usually dressed and ready to go quite early.
However, this day, I really enjoyed not having to rush.
As soon as I got in the shower, I heard my cellphone ring.
I assumed there would be a voicemail waiting for me to hear.
When I got out of the shower and went to my dressing table I checked my phone.
I could see that there was a missed call but there was no voicemail message.
As I was ready to check my recent calls, the phone rang again.
It was my neighbor from across the street.
I was glad to hear her voice.
What's up? I asked her, wondering why she was calling this time of day.
Parsley, Sage, Rosemary, and Thyme, she answered with a smile.
You have more herbs, I said, quite sure that was the reason for her phone call.
This sweet neighbor gets such joy from her garden.
Equal to the joy she gets from her planting is the joy she gets from giving it away.
When she and her husband moved here, they had moved from Paris, France.
She was still in France, finishing up there before the bulk of their things were shipped.
The move meant leaving good friends behind.
The move back to the States, and moving to the country would be quite different for them.
Her husband knew what to do for her.
He planted an herb garden.
He planted the herb garden so that it would be there for her when she arrived.
His wife, an amazing cook, studied at Le Cordon Bleu.
The gift of her herb garden was exactly what she needed for this house to feel like home.
I remember when she came over with some herbs after they were in the house for a short time.
I love to cook but I do not have an herb garden; my herbs, though organic, are in jars.
She gently teased me after telling me all of the names of the herbs she brought with her.
The quiz is in a few minutes, she said with a twinkle in her eye.
Basil and cilantro were the only ones I recognized with a quick glance.
We bonded over herbs that day.
She gave me a gift from her garden.
On the day I missed her first phone call, I was delighted that my neighbor called back.
I told her that I had been in the shower since I was getting ready to go out.
I have something for you; I will just put it on your back table, she told me.
I knew that when I came downstairs, herbs would be waiting for me.
There was nothing on the table when I looked out my kitchen window.
I had to leave so I gathered my things and got in the car.
As I was pulling out of the garage, I saw her out of the corner of my eye.
My sweet neighbor was just about to step on my back walkway.
I got out of the car and gave her a hug.
She was holding a metal hanger in her hand.
There was a plastic grocery bag draped over the hanger.
I could see some greenery poking through.
I know what this is, I said excitedly.
She lifted the plastic bag to reveal four bunches of herbs hanging from the hanger.
Each bunch had a paper towel around it.
On the paper towel, my neighbor wrote the name of the herb for me.
You can hang this in a dark place and allow the herbs to dry, she explained.
Then you can snip off a few as you need them for cooking, she continued.
I thought of the Simon and Garfunkel song, Scarborough Fair.
Are you going to Scarborough Fair? Parsley, sage, rosemary, and thyme.
She gave me a gift from her herb garden.
The gift her husband gave to her all those years ago, she now gives as gifts to others.
We bonded over herbs from her garden then and now.
How blessed I am to have her as my neighbor and friend.
Build houses and settle down; plant gardens and eat what they produce. (Jeremiah 29:5)
What a precious gift I received, the gift of herbs from her garden.
What care she took to pick them and tie them in bunches for me.
How sweet to write the name of each bundle on the paper towel for me.
As I snip a bit of the herbs my neighbor brought to me, I will think of her.
Gifts do not have to be extravagant.
Simple gifts are best.
Gifts from the heart, presented and given with love.
We bonded over herbs from her garden, then, and now, and in the days to come.
I drove away listening to Simon and Garfunkel.
It seemed appropriate.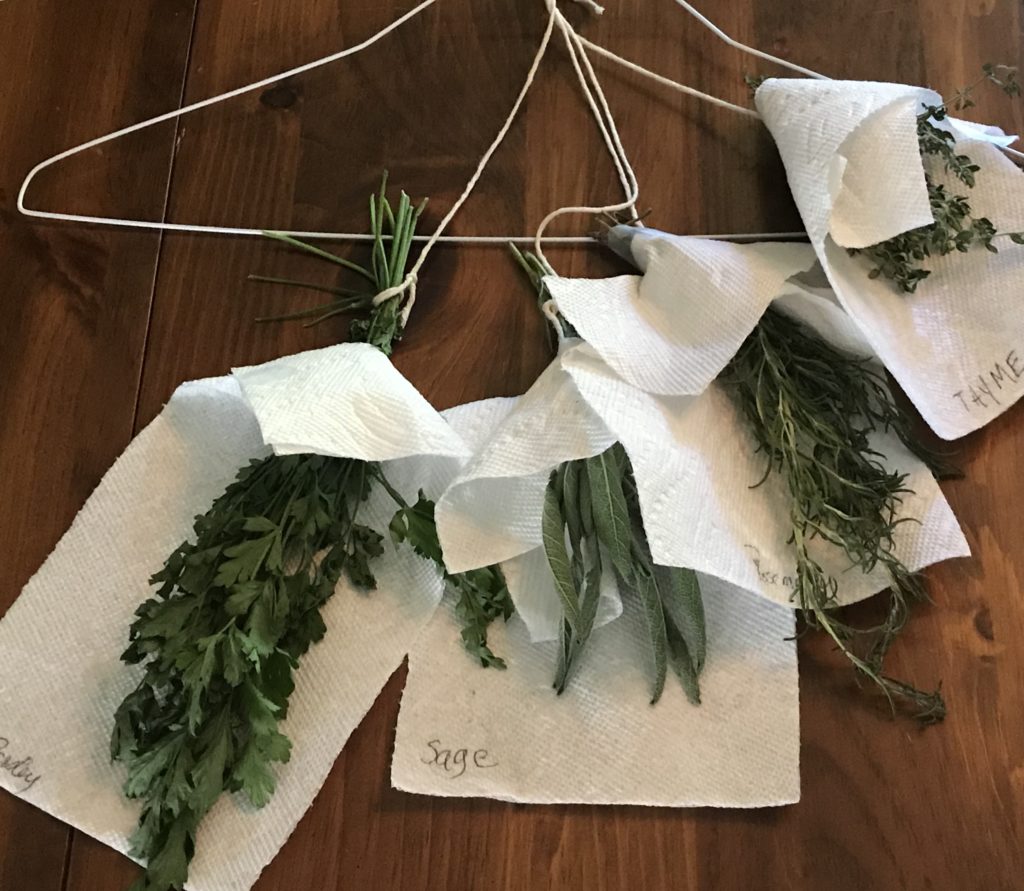 Whispers of His Movement and Whispers in Verse books are now available in paperback and e-book!