On The Back Of A Motorcycle
Some people think of travel as an adventure.
Some people think of travel as simply going from point A to point B.
There are all different ways to travel.
No two travel stories are alike.
I always think that suitcases and mailboxes are similar.
Did you ever notice the various types of mailboxes you see on the side of the road?
Some people landscape around their mailbox.
I have seen beautiful clematis vines grow up and around the mailbox post.
Some people paint their mailboxes to make them stand out from the rest.
Some people put their mailboxes on metal pipes instead of the traditional wooden post.
Some mailboxes have been knocked over by a delivery truck or a snow plow.
Those mailboxes owners are the most ingenious, since they fasten their mailbox with rope.
Just as there are many different types of mailboxes, there are different kinds of suitcases.
Some people have luggage that almost looks too nice to bring on an airplane.
Some people have suitcases that have seen better days.
Like the mailboxes, they are bound with rope or cords, just in case.
Sometimes it is not a matter of preference as much as it is a matter of necessity.
Mail has to be delivered one way or another.
Clothes must be packed in suitcases or duffels when one takes a trip.
You can tell a lot about someone by their mailbox and their suitcase.
My husband has a very conservative suitcase for his business trips.
Yet, he ties a neon green piece of fabric around the handle so he can find his luggage faster.
We all have unique ways of putting our own personal touches to things.
Mailboxes and suitcases are just two examples.
The way we travel is another unique choice.
Some people may choose to walk whenever and wherever they can.
Others may choose to ride a bike to get from one place to another.
Most of us travel by car, train, or plane to get to our destination.
I thought I had seen everything until I was traveling home from running errands.
I was in the middle lane of a three lane road going north.
To my right, a car was waiting at the red light with the driver singing along to music.
To my left, and up just one car, I looked and did a double take.
I saw a yellow lab on the back of a motorcycle.
I sat at the red light and giggled.
The yellow lab was in a special seat on the back of the motorcycle.
I read what was written in marker on the seat: Dog Riding.
It was a gorgeous spring day, with a wonderful breeze.
The dog was looking around, enjoying the special seat.
When the light changed on the 55 mile per hour road, the dog took it all in stride.
The ears of the yellow lab flapped in the breeze.
I have seen people on the back of motorcycles.
They usually hold on to the waist of the driver.
The yellow lab had nothing to hold onto.
It was obvious that the yellow lab had traveled this way before.
It's a dangerous business, Frodo, going out your door. You step onto the road, and if you don't keep your feet, there's no knowing where you might be swept off to. (J.R.R.Tolkien)
This yellow lab was well taken care of by its owner.
For all I know, the yellow lab was strapped into the seat to make the ride more secure.
I could not see the owner's face but noticed the driver in front of me was talking to him.
Everyone in the vicinity of the yellow lab on the motorcycle was smiling.
There was no way you could not smile.
The pair were journeying together.
It may not have been the typical way to travel with a dog.
Like mailboxes and suitcases, it was unique.
I reached for my phone and took a picture.
When would this opportunity come again?
I watched the motorcycle ride up the road.
The dog was wonderfully content.

I lift up my eyes to the mountains—where does my help come from? My help comes from the Lord, the Maker of heaven and earth. He will not let your foot slip—he who watches over you will not slumber; indeed, he who watches over Israel will neither slumber nor sleep. The Lord watches over you—the Lord is your shade at your right hand; the sun will not harm you by day, nor the moon by night. The Lord will keep you from all harm—he will watch over your life; the Lord will watch over your coming and going both now and forevermore.
(Psalm 121:1-8)
I have seen bumper stickers that bother me every time I read them.
The bumper stickers say: God is my co-pilot.
It bothers me every time I read it because it is wrong.
That sentiment elevates us above God.
That sentiment says that we are the pilot and God comes along for the ride.
That could not be more wrong.
God is the pilot.
We are the ones going along for the ride.
When I saw the yellow lab on the back of the motorcycle, I thought: That is us!
God is the driver.
We are just simply going along for the ride.
We take in all the scenery and enjoy the breeze on our face; we are in good hands.
We bring nothing to the journey but our willingness to travel with Him.
The man on the motorcycle wanted his yellow lab along; God feels the same way.
The desire of God's heart is to be with us.
That desire is so strong, God sent His son, Jesus to come in the flesh.
God dwelt among His people through the Incarnation.
When Jesus came, He was given the name, Immanuel, God with us.
God is not our co-pilot.
God is the One in control.
A yellow lab on the back of a motorcycle made me smile.
A yellow lab on the back of a motorcycle made me think.
How glad I am that God is directing my journey.
What a wild and wonderful ride it truly is.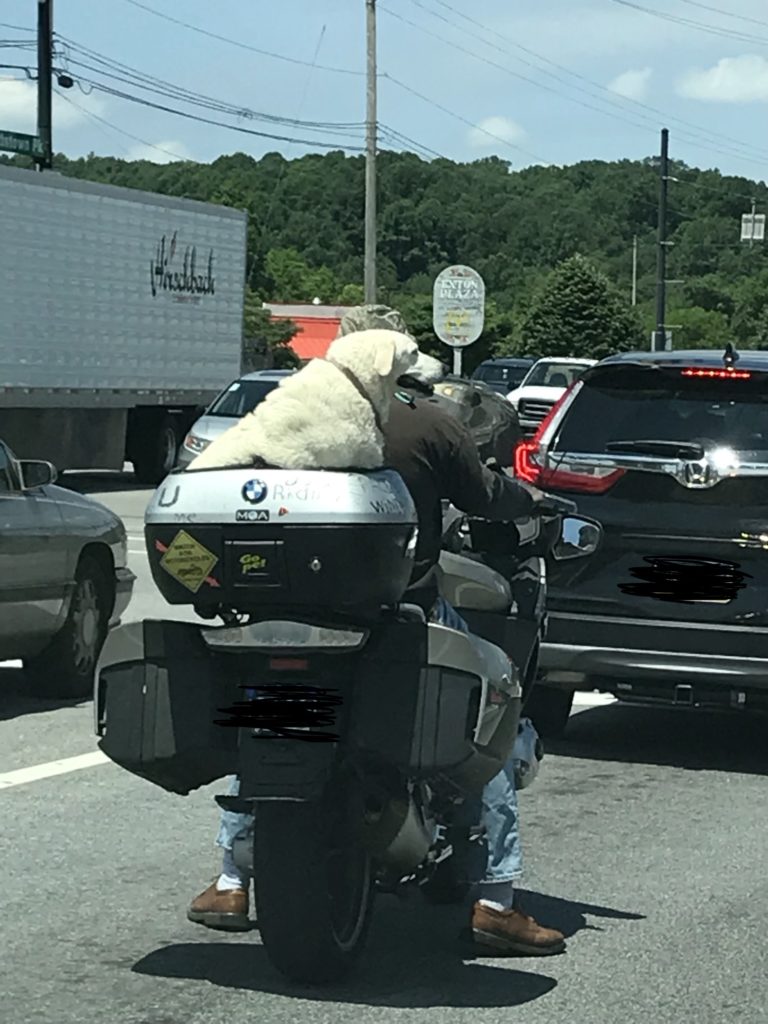 Whispers of His Movement and Whispers in Verse books are now available in paperback and e-book!