Thursday Night At 8:00
It was a Thursday night ritual.
I had my favorite spot on the sofa.
I could look behind me and see my mother sitting on the chair.
It was something we enjoyed doing together.
I always had to make sure I turned on the television minutes before the actual show.
It was the days when televisions had to warm up a bit.
There was no instantaneous picture at the turn of a button.
There were no television controls; to change a channel you had to get up from the chair.
It was the thing we did every Thursday night at 8:00.
I could tell right away when the show came on because I would hear the familiar theme song.
I would settle in to see what my favorite family was doing.
There was one character in particular that resonated with me.
The show was The Waltons.
My mother and I were not the only ones tuning in on Thursday night at 8:00.
When the show first aired, it was placed in an undesirable time slot against two popular shows.
CBS believed in the show so much, it took out a full page ad, citing the wonderful reviews.
Television history was made.
The Waltons won the time slot.
The show ran from September 1972 until it was cancelled in 1981.
Three movie sequels were aired in 1982; three more aired in the 1990s.
Many executives thought The Waltons would fail.
No one thought that America would care about a Depression Era family.
The television executives could not have been more wrong.
America was still in the Vietnam War; a family drama with simple values was what we needed.
Every week an entire family gathered around the dinner table and actually ate together.
There were no TV dinners; there was no running here or there.
We saw a family meal prepared and served with love.
A strong father and a loving mother, two grandparents and seven children cared for each other.
Family, faith, and friendship were central to every episode.
Values that we all longed for were upheld.
Respect for authority and consequences for wrong behavior were part of many story lines.
America felt like they were a part of this family.
The character of John Boy resonated with me.
He loved books; he was constantly reading.
He loved to write; he wrote down daily occurrences and how he felt about them.
I understood that; even though I never journaled, I was constantly writing stories.
I learned that the man who created The Waltons was the real life John Boy.
His soft Southern accent narrated the beginning and ending of each show.
There was comfort in a time when a tumultuous world was all we knew.
For one hour, families gathered around the television and saw a simpler way.
As my children grew, The Waltons that I watched as a twelve-year-old was in syndication.
I was able to share the show I loved so much with them from time to time.
My youngest daughter and I watched it much like my own mother and I did all those years ago.
It was so sweet to be able to share it with her.
I knew that there was a painting of the Walton house that was given to Earl Hamner Jr.
It was a gift that became part of the Walton museum in his hometown of Shuyler, VA.
That was a place I wanted to visit.
Replicas of the famous kitchen, living room, and John Boy's bedroom were displayed.
One anniversary, a large package was waiting for me to open.
From the shape, I knew that it was a painting.
I was so surprised when I opened it.
Inside was a painting of The Walton house that my husband had an artist paint for me.
That painting hangs in our living room.
It is very special to me.
It reminds me of that sweet time with my own mother.
In fact, we sat and watched The Waltons together the night before she died.
One man wrote very simply about family life through the lens of his own family.
Those stories and those experiences touched a special place in the hearts of American families.
Those stories touched a special place in my heart.
Perhaps, I write because one man told a simple story well.
When my son went to law school in Virginia, three of my children and I took a day trip.
We drove into the mountains, on narrow winding roads and went to the town of Schuyler.
I finally got to see The Walton museum.
I got to see the actual painting of The Walton house that was given to Earl Hamner Jr.
My children took a picture of me standing in front of the famous kitchen.
It felt right.
Vicariously, I was in that kitchen every week.
In reality, my own kitchen has become the hub of our house as well.
The eyes of all look to you, and you give them their food in due season. You open your hand; you satisfy the desire of every living thing. (Psalm 145:15,16)
The values that were so prevalent on The Waltons are still important values today.
They are timeless values that are spelled out in God's Word.
We long for simpler times.
We can have them again; they are not lost.
We can start by having dinner around the table every night.
Even if it is only sandwiches, the family table becomes the gathering place.
That table becomes the place where thoughts are shared and respected.
That table becomes the place where everyone touches base each day and feels connected.
The time around our dinner table was holy ground.
Very rarely was a meal missed.
I worked meals around schedules sometimes, but the meal itself was not forsaken.
Families need that consistency and that connection in a world that is trying to tear them apart.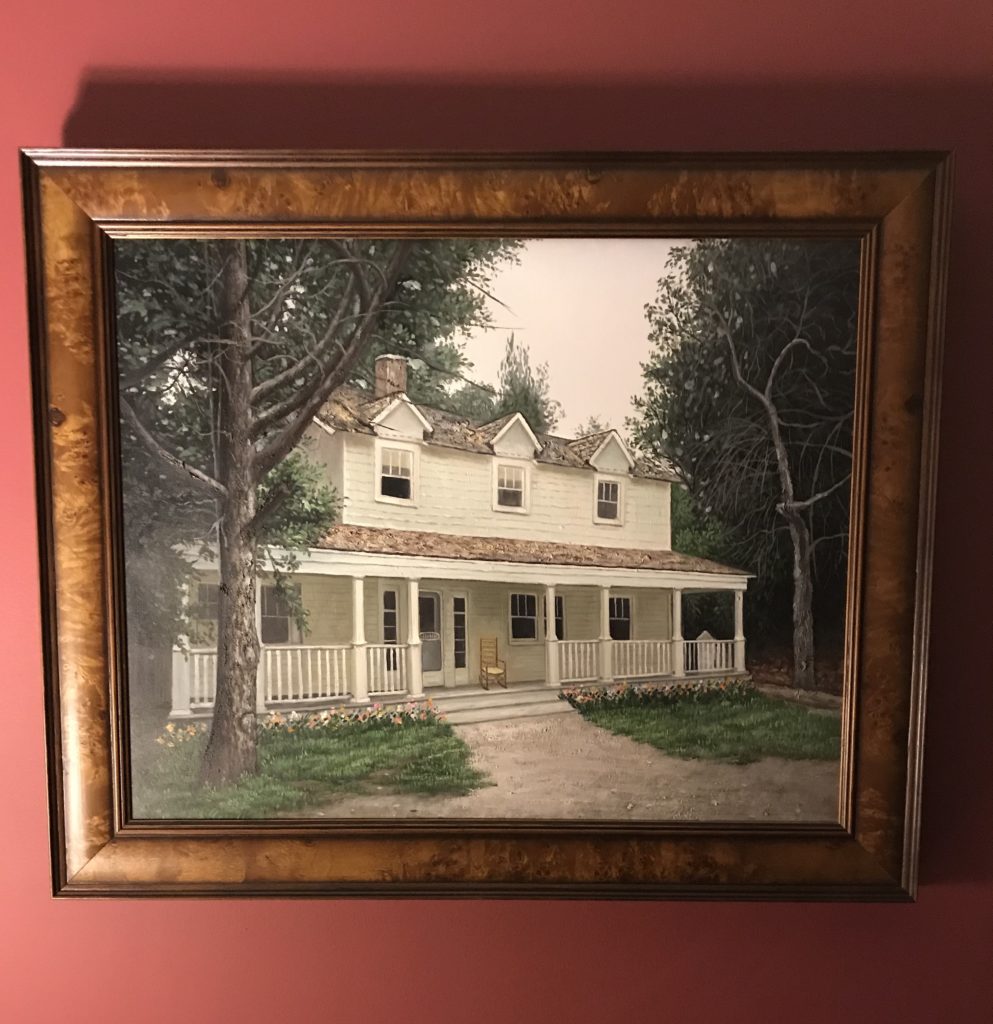 Whispers of His Movement and Whispers in Verse books are now available in paperback and e-book!