The Special Announcement
I was down in the finished part of our basement.
I was putting something away.
I saw it tucked next to the sofa.
It was the cradle my husband made for one of our daughters.
My husband is an amazing woodworker.
Woodworking is a hobby that he loves.
He made our large farm table in the kitchen.
He made our armoire in the family room as an anniversary present many years ago.
He made each of our children something special from his hands.
He made a beautiful bed for our oldest daughter, which she still uses.
He made the cradle for our next daughter as a place for her to keep her dolls.
He made a large bench that opens and is used as a window seat for our youngest daughter.
He made tool boxes for each of our sons, with tools that he fashioned by hand.
He made candle boxes, keepsake boxes, and a caddy that holds my rolling pins.
He made a jewelry box for our oldest daughter, and a large, handmade frame for another.
He also does carving as well.
When I saw the cradle that day, it made me smile.
Mom, can I just keep this cradle here until I get my own house someday? My daughter asked.
She and her sister were moving into an apartment together and the cradle was not needed there.
Now, that daughter is married with her own house; the cradle can have a new home.
It was already planned that she was coming over for dinner.
She and her husband are both teachers.
He has a catering job on occasional weekends.
I just assumed her husband was working and she just wanted to catch up.
I texted her a few days before telling her that I was going to give her the cradle.
I also got her Kirsten, American Girl down from the closet.
Both things would now have their rightful home.
She seemed excited to get both on the night she was to come over and bring them home.
It was a Tuesday night that our dinner was planned.
I just surmised that my son-in-love was catering for a special weeknight event.
I was delighted to have one-on-one time with my daughter.
She came over at 6:00 and my husband was expected soon after.
We talked about everything.
I looked at the clock and realized that it was taking my husband a long time to come home.
He knew our daughter was coming for dinner.
It was not like him to be late and not text me.
Dad is taking a long time to come home, my daughter said.
I decided to call him and make sure he was okay.
I'm pulling into the street now, he said.
Less than a minute later, I heard the garage door open.
I heard him put something on his workbench in the garage.
Then I heard the door open as he said, I'm home.
He opened the door into the kitchen and gave me a kiss hello.
He hugged our daughter who was sitting at the kitchen island.
The door opened again.
I saw our son-in-love walking into the kitchen.
I was confused.
He should be catering, at least that is what I assumed.
He was carrying a present in each hand.
Our daughter got up.
They placed a present in front of each of us.
Open it, they said.
We each began to open our present.
I could see that my husband got a shirt.
In my hand, I held a wooden sign.
We both understood at the same time.
We are going to have a baby! They said bursting with joy.
How does it feel to know that you're going to be grandparents? They added.
A mother anticipates these moments and wonders how she will react.
I always thought that I would cry after hearing the good news.
I was wrong.
I was overwhelmed with joy.
It was my husband who got teary eyed.
It was my engineer husband who was more emotional than me.
The shirt they gave my husband said, My favorite people call me, Pop-Pop.
My homemade sign said, Grandmom, est. 2018.
I called my own grandmother, Grandmom.
My daughter-in-love and my children's friends call me, Mama G, so Grandma G sounds nice.
After hugs and tears, we asked some questions.
The baby is due at the end of May.
Yes, she was beginning to get sick each morning.
Yes, she knew she was pregnant when we were at their house for dinner weeks before.
How did you come in right behind him? I asked pointing to my husband.
I was waiting in the car, my sweet son-in-love admitted.
They pulled into the third garage and he waited until my husband got home.
Since my husband was late that night, he waited a long time.
You pulled into the garage and I scrunched down, our son-in-love said.
When you walked over to your workbench, I thought for sure you would see me, he said.
You waited all that time? I asked in unbelief.
We wanted to tell you together, our daughter said.
They took a picture of us holding our gifts.
I am wearing one of my aprons that I always wear when I cook.
It is a memory captured in time.
I will be able to show my precious grandchild our reaction when we first heard the news.
After we finally had dinner, they needed to go home.
All three of them needed to go home, carrying the cradle my husband had made.
Grandparents, I said to my husband when we walked back into the kitchen.
You got teary, I said as I hugged him.
Through the years, my husband had a nickname for the children: pooches.
I do not know how it started but the name stuck.
Do you know why you were teary? I asked, already knowing the answer.
The familiar words came out without thinking: My pooch is having a pooch.

We both hugged.
To anyone else that sentence would sound strange, but to us everything came full circle.
Our daughter was having a baby.
We went from parents to grandparents in a matter of minutes.
And we rejoice.
And we are thankful.
And our hearts are full.
And we cannot wait for each grandchild that God allows us to love.
My prayers have expanded.
My prayers already include this precious little baby our daughter is carrying.
May he or she come to faith early and love the Lord Jesus.
May God keep His hand over this family.
My daughter became a mother at the moment of conception.
This child is already loved, though we have not seen his or her face yet.
This child will be surrounded by aunts and uncles that already love this baby.
This child will be surrounded with the Word of God and ongoing prayers.
God is good.
As we wait, we pray.
As we wait, we rejoice.
As we wait, we are so very thankful to God, the Giver of good gifts.
When God gives a gift, He wraps it up in a Child. (Michael Card)
Amen and Amen!
For You created my inmost being; You knit me together in my mother's womb. I praise You because I am fearfully and wonderfully made. (Psalm 139:13,14)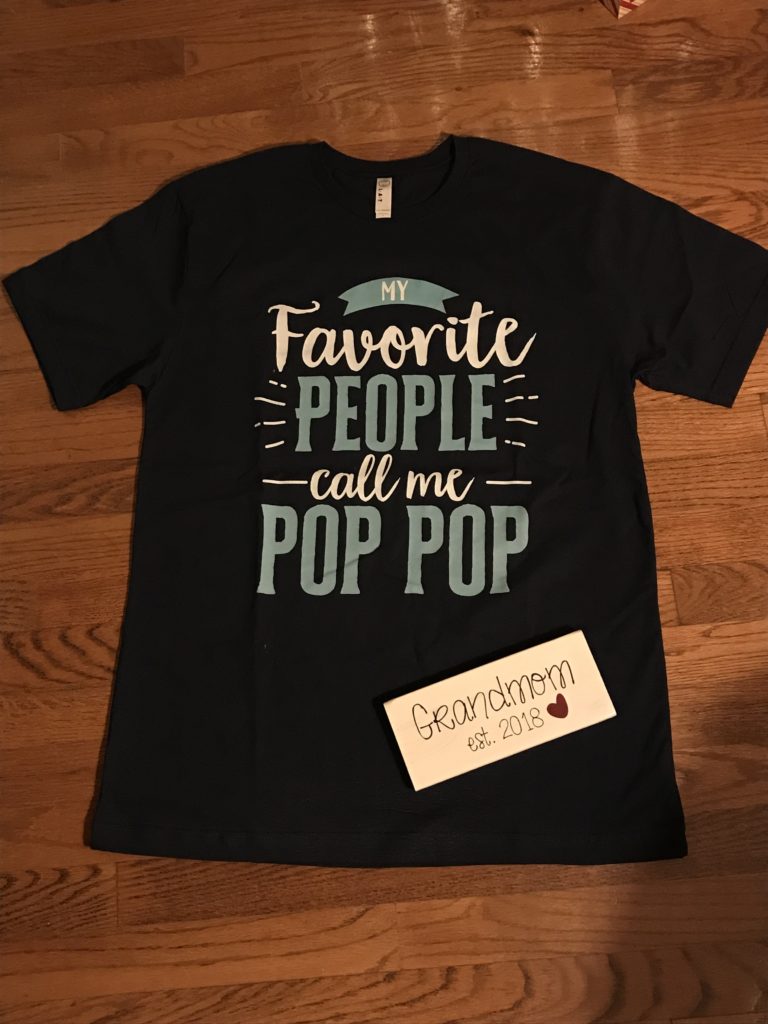 Whispers of His Movement and Whispers in Verse books are now available in paperback and e-book!