The Plant
I rang the doorbell with a tray in hand.
I made a meal for someone and was bringing it to their house around dinner time.
The husband answered the door.
The wife was standing in the foyer with a smile.
The meal was to bless them.
However, the visit ending up blessing me.
Isn't that always the way it goes?
Reciprocal blessings.
The wife had some oral surgery after a fall.
I know the couple from church.
They are very special to me.
It was because of an email that all of this happened.
The husband sent me an email in response to something I had written.
A particular piece that I wrote on the Vietnam Memorial Wall touched his heart.
He had some additional things to share and some new perspectives for me to ponder.
I thanked him for taking the time to send that to me and inquired about his wife.
He updated me in his email response.
I offered to make a meal for them to lighten their load a bit.
He checked with his wife.
He seemed concerned that his email update set the stage for the meal offering.
I assured him that he was simply updating, not fishing for me to make a meal.
The day and time was set.
I decided on the menu and shared it with them to make sure it was acceptable.
I was so delighted that I could bless them in such a practical way.
I walked into their kitchen carrying the tray filled with food.
I put the tray down on the kitchen island.
The husband transferred soup that I had made into one of their pots.
We stood at the island and talked for a bit.
In the center of the island was a beautiful philodendron plant.
It cascaded down the sides and filled the center of the island.
I fingered one of the leaves in admiration.
This plant is beautiful; I love philodendron, I said reminiscing.

The wife seemed pleased since she loves philodendron plants as well.
I looked around and saw a few more plants each equally lovely.
I saw her go towards one of her plants.
It looked as if she wanted to give me a snip of her plant so I could grow my own from hers.
However, she went over to a plant not too far from where we were standing.
It was a beautiful philodendron plant in a round glass bowl.
Rather than being in dirt, the plant was in water.
The roots were visible, circling around the inside of the glass bowl.
She lifted the pretty plant and walked towards me.
Would you take this? She asked extending her hands just a bit.
My mind was racing.
I was here to give something to them not vice versa.
I looked at the plant.
I looked at this precious woman who is my friend.
I will accept the plant because every time I look at it, it will remind me of the two of you.
She seemed pleased with my reason for accepting her gift.
The husband washed my pot and placed the glass bowl inside.
The beautiful philodendron was lush and green.
The philodendron brought back so many memories of my childhood.
That same kind of plant was in many places in our house as well.
I expected to leave their house with an empty tray and a pot with remnants of soup inside.
I left their house with a clean pot, which held a memory.
I left with a clean pot and a reminder.
I left with a lush green plant cascading over the edge.
Each of you should give what you have decided in your heart to give, not reluctantly or under compulsion, for God loves a cheerful giver. (2 Corinthians 9:7)
A simple plant was given to another.
The gift was from the heart.
The gift left an empty space on her table.
The empty space in her house now fills a space in mine.
The beautiful philodendron plant will remind me of this special couple.
The roots circling around the glass bowl search for the water that is at the bottom.
That water keeps the plant healthy.
The philodendron will flourish with water and light; it will grow.
Sometimes we have trouble accepting a gift.
The gift catches us off guard.
We don't know what to say to the kindness of someone else.
Simply say, Yes.
Receiving the gift from another blesses the giver.
It is humbling to accept something from someone else.
It is wonderful when it is unexpected.
It is wonderful when it is undeserved.
Grace was handed to me in a glass bowl.
Roots down deep searching for water.
Lush green leaves reaching up towards the light.
Memories of my mother and an example of God's grace.
I want my roots to go down deep.
I want my roots to search for Living Water.
I want to turn my face towards the Light of the World.
I want to grow and flourish.
Perhaps one day a snip of grace can be extended to someone else.
That snip of grace will grow and grow.
Then one day another snip will be taken to begin another plant.
That's the way it is in God's garden; grace upon grace.
…to bestow on them a crown of beauty instead of ashes, the oil of joy instead of mourning, and a garment of praise instead of a spirit of despair. They will be called oaks of righteousness, a planting of the LORD for the display of his splendor. (Isaiah 61:3)
A beautiful philodendron plant now sits on a table in my family room.
It will always bring this special couple to mind.
It will also bring my mother and my childhood to mind.
It will remind me that I am a planting of the Lord for the display of His splendor.
Snip away.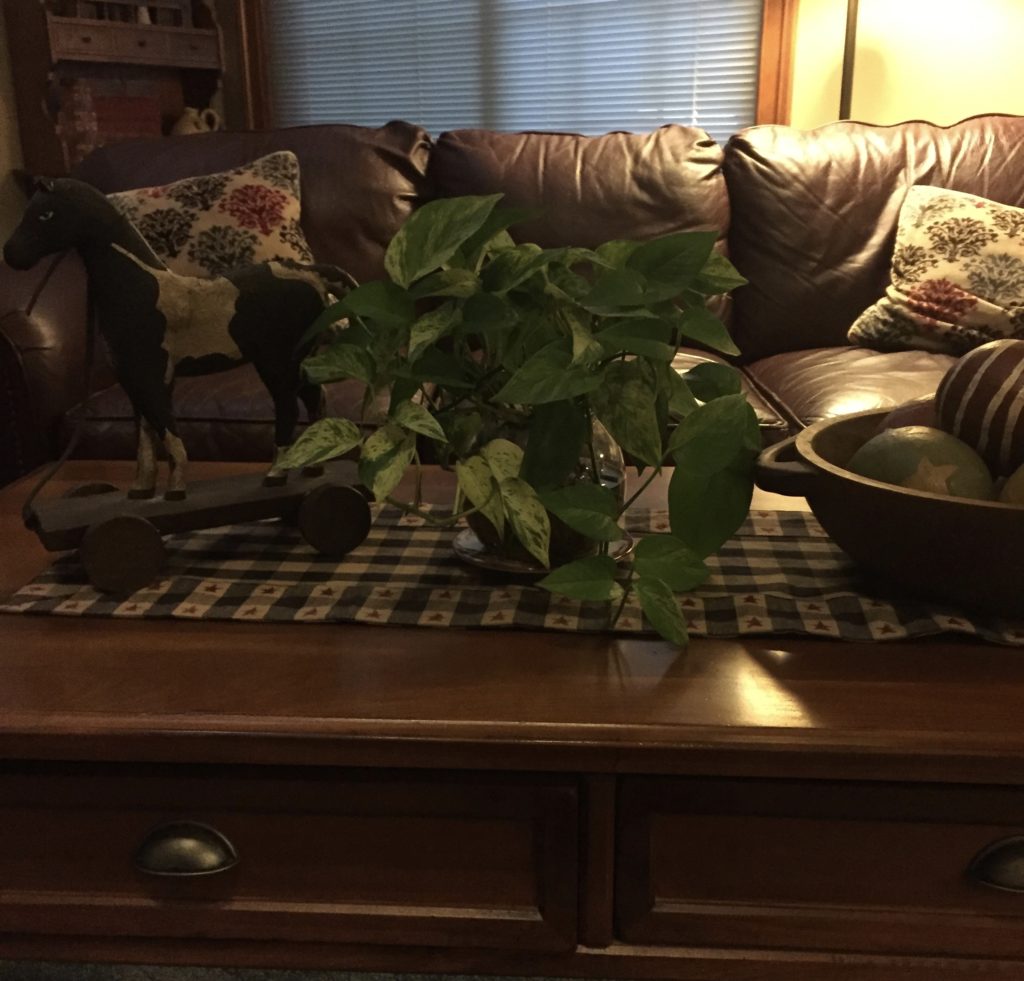 Whispers of His Movement and Whispers in Verse books are now available in paperback and e-book!